I have some amazing items on the way. Call Steve directly on these at 630-865-6849:
Gretsch 50s era 3 ply kit 9x13, 16x16, 14x22, 5.5x14 all re-wrapped in beautiful gold sparkle by Jack Lawton. Incredible 3 ply era Gretsch sound in a stunning kit.
SOLD. Gretsch 60s era bop kit!! 8x12, 14x14, 14x18, 4x14. All 3 ply except 14x14!!! Three extra holes in the 18 and a few in the 4x14. Entire set will be re-wrapped by Jack Lawton in the color of your choice. Get the REAL sound of the 60s bop era for a third of what you'd pay if this was the original wrap. Update: Spoke to Jack Lawton who verified that the 14x18 is an absolutely original Gretsch 3 ply bass drum shell that has 5 ply reinforcement rings. This is something that he and I both have seen on 3 ply Gretsch 18s. In the extremely unusual case of a 3 ply 18" bass drum the rings are actually necessary for ensuring strength of the shell. On the very few 3 ply 18s that have surfaced the rings are there. When Gretsch went to the 6 ply shell with the staggered ply scenario the shell integrity was fine without the rings. This 3 ply shell has correct silver paint on the inside with no paper tags so this would date it more towards that 1957 time frame where they were making the transition from clear interiors with no tags to the silver sealer paint and eventually to paper tags. He said the shell is very nice. An original 3 ply 18 is insanely rare. More to come. Keep checking back. If you want this kit call Steve at 630-865-6849. You can pick your wrap color!
In addition to our Chicago-land store in Naperville, Illinois come see us at our Manhattan store. CLICK HERE FOR INFO . We are located at 723 7th Ave, 3rd floor. We're right on the corner of 7th Ave and 48th St. right in the heart of "music row".
See Latest Products for lots of new additions coming in daily!
A little story for you: "It was seriously cool when it first arrived on the scene almost 50 years ago. It was revolutionary for the time. It truly made a 'statement'. But then it was gone. For over 40 years it has been missing and highly coveted. Rare original examples get snapped up immediately. Fast forward to January 2009 and a conversation between two parties who both happened to be thinking about the same thing at the same time. Now, the wait is over. It's back, and you can only get it from us. Yes, the ultimate in "cool" has returned". To find out, just Click Here
Joe Morello Ludwig Legacy "Take Five: Tribute Kit! Click Here. Below is the sticker that will be on the inside of each drum. There will only be 25 sets.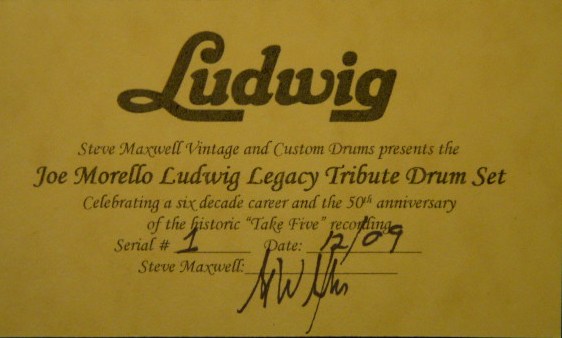 Check out all of our Craviotto snares and sets. Sound files galore!!!!! Click Here and Click Here Plus, Steve's special Craviotto Radio King Tribute snares Click Here
NEW! Steve's 2010 Craviotto "Vintage Tribute" series. Only 7 of these snare drums will be made. No two will be alike. Check this out! Three are already sold! Only 4 left!For details and pricing. Click Here
***************************************************************************************************************************
COOL NEW WEBSITE CATEGORIES: STEVE'S CELEB AND ULTRA RARE DRUM GALLERY: Click Here. Lots more added to Latest Products: Click Here. STEVE'S SPECIAL SALE ITEMS: Click Here. STEVE'S FEATURED PRODUCTS just updated for a RB Gretsch kit. Click Here. And another new website category for our Used Cymbal Vault! Lots to see. Click Here.
Elvin's Camco kit!!!!!! Fully authenticated. Click Here. Scroll through Latest Products to see everything: new and vintage sets, snares, and cymbals.
Joe Morello's cymbals!!! Click Here.
Our new Rail Consolette tom holder is here. click here New: Sound files for vintage As and Ks. click here .
New York Museum items FOR SALE including Krupa's 30s Radio King; Slingerland Black Beauty; Peter Erskine's Steely Dan tour kit and more!!: CLICK HERE.
THE FIRST LEEDY USA CUSTOM SHOP PROTOTYPES ARE HERE!!!!!! Samples below, but CLICK HERE for detailed pics.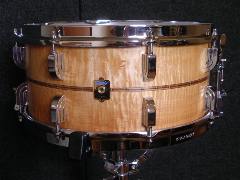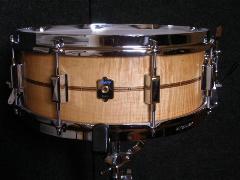 Now, Leedy 1941 catalog pics are up also. Do not miss these. CLICK HERE and scroll down to select the Leedy 1941 catalog photos. More great drums and more website changes coming soon. SCROLL DOWN TO THE "INVENTORY" SECTION BELOW FOR SOME UPDATES.
BIG NEWS! WE ARE PROUD TO ANNOUNCE THE CREATION OF THE LEEDY USA CUSTOM SHOP. Through our arrangement with Leedy USA, our Leedy USA Custom Shop division will create and distribute custom Leedy USA drums, beginning with snare drums with solid shells by none other than Craviotto. CLICK HERE for info!!!
See Steve's Wood Dyna Museum CLICK HERE. Wood Dynas Recently Sold CLICK HERE
35 OF PETER ERSKINE'S PERSONAL CYMBALS INCLUDING SOME USED WITH STAN KENTON, STEELY DAN, WEATHER REPORT AND OTHERS!!!! ALL NET PROCEEDS WILL BE USED TO FUND SCHOLARSHIPS TO THE INTERLOCHEN ACADEMY FOR THE ARTS. CLICK HERE THE SCROLL DOWN FOR AN INVENTORY LIST.
STEVE'S DRUM FACTS. CLICK HERE. NEWSLETTERS. CLICK HERE.
1) Craviotto East Coast Showroom update. Do not miss this! Click Here. 2) See Latest Products for lots of new items!! 3) Gretsch RB champagne 12/14/18/4x14!!! Two sets of pics. Click Here and Click Here. 4) Louie Bellson's gold plated Rogers kit that he gave to Sammy Davis Jr. Click Here.