We have a very large lot of drum sets, snare drums, cymbals and hardware. We've collected most of it and will be doing photos and giving you more details about each. Meanwhile, here are a few quick pics and some info. Contact Steve at vintagedrums@aol.com or by text at 630-865-6849 and we can talk more about any of these. This collector was a huge Bonham fan as shown by the sizes on most of his kits, and the bulk of the cymbals we have are Paiste. There are about 120 cymbals and about 100 are Paiste. Most of the cymbals are New Old Stock with many still in the plastic bag. Several of the kits are also New Old Stock.
Note that the sets are stacked up and many don't show the tom legs or tom holders, but we have those.
Ludwig Classic Maple Monroe badge blue sparkle, unplayed. 10x12, 11x13, 16x16, 16x22 and includes a 9x22 woofer. Ludwig newer Amber Vistalite 10x14, 16x16, 16x18, 14x26, (yes 26"). Unplayed. It is in the background of this pic.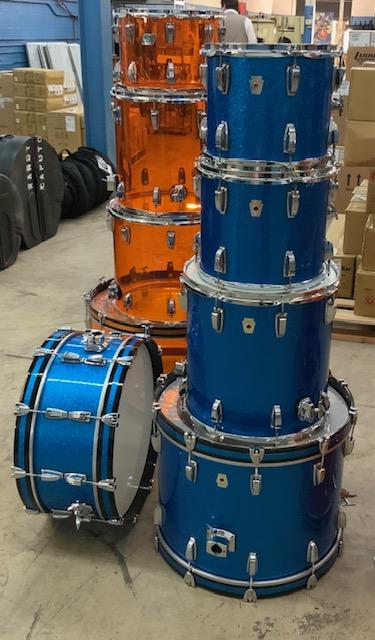 Ludwig Classic Maple Monroe badge red sparkle unplayed. 8x6" (8 deep, 6" head), 8x8, 9x10, 10x12, 9x13, 14x14, 16x16, 14x22, 8x14 SD.
Yamaha Tour Custom (80s) Yellow. Superb condition. 10x10, 12x12, 13x13, 14x14, 14x14 (slightly darker), 16x16, 16x18, two 16x24. (the super small tom in the pic is from a Hip Gig kit).
More pics to come soon! Contact Steve for details and prices at vintagedrums@aol.com or by text at 630-865-6849.