Welcome to Steve Maxwell Vintage and Custom Drums
Steve Maxwell Vintage and Custom Drums is Chicago and Manhattan's only Vintage and Custom Drum Shop and Museum. We have an extensive inventory that is constantly changing so keep checking back for new and unique vintage drums and cymbals. The links to your left will guide you through the web site. Please email us if you would like to sell any of your vintage drum gear or would like to discuss an item you see on this web site. We also carry new cymbals, heads, drums, sticks, books, and hardware. Let us know if we can help you in any way with your new and custom drum needs.
HOURS: NY Store: Mon-Fri 11-7. Sat. 11-6. Sun Closed. Naperville Store: Fri 11-6, Sat 10-5, other times by appointment.
OUR VIDEO CHANNEL: HERE
NEW! OUR PODCAST CHANNEL (3 new episodes added 2/1): HERE
And, our podcast channel is now on iTunes!!
LATEST NEWS
What does it mean to be a "master drum builder"? THIS is what it means: HERE.
3/10/14: 7pm update:
Two more great Fibes snares: HERE and HERE. Gretsch USA Playboy time! Sets are here. 8x10, 13x13, 12x16BD in maple and walnut; 8x12, 14x14, 14x18 in maple and walnut; 8x12, 14x14, 14x20 in maple and walnut. See them HERE.

Sabian: More of Steve's hand picked superb Sabian AAs are coming. 150 more cymbals!!!!! I will hand match a set for you!
Three vintage Rogers sets just in: champagne 12/14/20/5x14 and 12/16/20/5x14. Silver sparkle 12/16/20/5x14. See them and our other Rogers sets: HERE
AND: We just ordered 44 more Gretsch drums in walnut satin and satin millennium maple for our shell bank!! HERE. We now have over 150 Gretsch drums on order between complete sets and shell bank drums. NOBODY stocks more Gretsch USA Custom anywhere in the world.
Need a Craviotto snare drum? NAMM snares are here. This is just what we have on the NY 4th floor alone. 25 more on 3rd flr:
NEW FROM CRAVIOTTO! I just posted 15 Craviotto snares coming to us direct from NAMM including several Private Reserve. These are not to be missed. See them. HERE. New from Craviotto now in NY straight from the NAMM show: 10th Anniversary triple stacked solid drum set #1 of only 10 worldwide (SOLD): HERE. Two in One series walnut/ash BB/45: HERE. New "Vintage Series" poplar drum set #1: HERE. The new Tonal Balance series, with video. This set is not to be missed (SOLD)! HERE.

Istanbul Agop: 27 pieces just in from NAMM. Stop by the NY store.
Steve just ordered 34 Craviotto Diamond Cast snares and 10 ship to us in NY Jan 10th. Call to reserve one. See the list HERE. Check out the Latest Products section and see three great kits we just listed in our Chicagoland store. Yamaha Custom Absolute; Slingerland, as well as a wonderful 20" old K that Zildjian had set aside for Elvin HERE
Here we go for 2014! Steve's new Gretsch USA "Jazz Legends" series for 2014 is here and he has just ordered a massive amount of other Gretsch USA Custom and Brooklyn for delivery in 2014. Call to reserve your set and see it all HERE.
STEVE'S WALK THROUGH OF COOL ITEMS IN THE SHOP. HERE. THE LATEST VIDEO OF OUR NY GRETSCH USA SHOWROOM FULLY STOCKED! See it HERE

Link over to our new PODCAST channel. We'll be posting lots of podcasts for your listening enjoyment. Many podcasts are up: a) Billy Gladstone. b) Vintage Gretsch drums. c) Vintage Ludwig drums. d) Charlie Donnelly, vintage drum guru and more. More coming soon!
ALL THREE Gladstone snares now sold!!! The first of the two Gladstones sold in 48 hours!! and the second sold in 10 days! The third drum (the John Noonan drum which is the finest example of the four drums in birdseye/gold hardware) sold in 24 hours!

Check out this Craviotto micro bop sale kit and the HUGE sound HERE.
3 Craviotto kits on order including two in our new, exclusive Big Apple Burst sparkle lacquer: HERE And, several new Craviotto snares just listed HERE

See latest vintage and other drum set listings just finished including the LAST SEA FOAM Gretsch kits, one 12/16/22/6.5 and one 10/12/16/22/6.5!) HERE.
7) ROGERS 20" cymbal bags! Brand new old stock from when Paiste made cymbals for Rogers. Fresh from the Paiste vaults and ideal for ANY Rogers fan and we bought them all. Limited qty! HERE
7) Elvin Jones leather cymbal bag with certificate of authenticity! HERE
NEW! See the new Ludwig Atlas mounting system on a Craviotto maple bop kit. NO DRILLING for legs, spurs, tom bracket or tom mounts. True isolation! See it HERE.
JUST IN: SABIAN!!! Steve hand picked tons of Sabian AA cymbals at the factory. These are BETTER than the old As from the 50s and early 60s and are a great deal. Incredible. Sound files are up. Don't wait. See them all HERE.
10/19/13: MAXWELL RAIL CONSOLETTES NOW BACK IN STOCK!! See them all HERE
10/19/13: Steve's second installment of the "Vintage Videos" series: Rogers. See it HERE
10/3/13: Earl Palmer's instruments: A true "hit maker" for decades, we are proud to offer many of Earl's instruments for sale. See all the details HERE.
9/20/13: For sale: One of only 3 Paiste drum sets and the ONLY double bass kit made. Carl Palmer's set!HERE
9/17/13: Billy Gladstone drum set news!HERE.
9/13/13: This is a Ludwig set you DO NOT want to miss: Citrus Mod factory dbl bass, strong color!HERE

8/14/13: It's here: The new Ludwig Atlas mounting hardware! Details and our video are HERE
8/02/13: NEW! Rob Cook and John Sheridan's Gretsch Book is HERE. See the Gretsch room video:HERE
8/14/13: Need a shot of espresso to get you going? How about our new Espresso Burst finish from Gretsch? See below. Go straight to the espresso burst sets in stock HERE. And, see our Espresso Burst video HERE.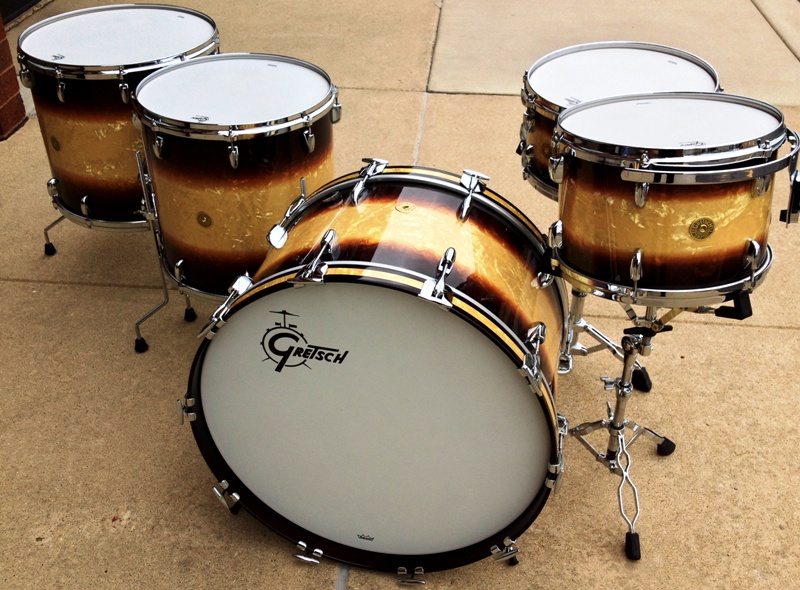 7/17/13: LUDWIG made in USA Classic Maple 12/14/20 and 13/16/22 and guess what? These sets are IN STOCK at Ludwig ready for IMMEDIATE delivery in either sky blue, WMP, red sparkle, or classic maple gloss. Have two in the shop: 12/14/20 sky blue only $1677! 13/16/22 natural maple gloss only $1952! And, new Atlas mount option available!!! See them HERE and HERE.
7/25/13: NY AND CHICAGO KITS IN STOCK! Gretsch USA: LOTS MORE HAVE ARRIVED. DETAILS SOON.

6/25/13: NEW video progam series coming soon! Steve's "Vintage Videos" series is coming soon to our video channel. See the trailer discussing this series HERE.
6/10/13: The first of our new, exclusive Espresso Burst finish Gretsch USA Custom sets are shipping. To see this finish on a vintage build and standard build kit click HERE.
6/6/13: NEW! We are proud to be THE NYC spot for Gon Bops percussion items. See them all HERE. And, see pics and video of the new renovations to the world's largest Gretsch USA showroom at our NY store: HERE

5/22/13: THE FIRST OF OUR EXCLUSIVE GRETSCH USA CUSTOM ESPRESSO BURST KITS HAS ARRIVED. MORE ON THE WAY. CALL US AND GET A PRICE QUOTE. THIS WAS A BIG HIT AT THE CHICAGO DRUM SHOW WHERE WE DEBUTED THE SET. HERE'S A PHOTO BELOW AND THEN FOR MORE DETAILS CLICK HERE: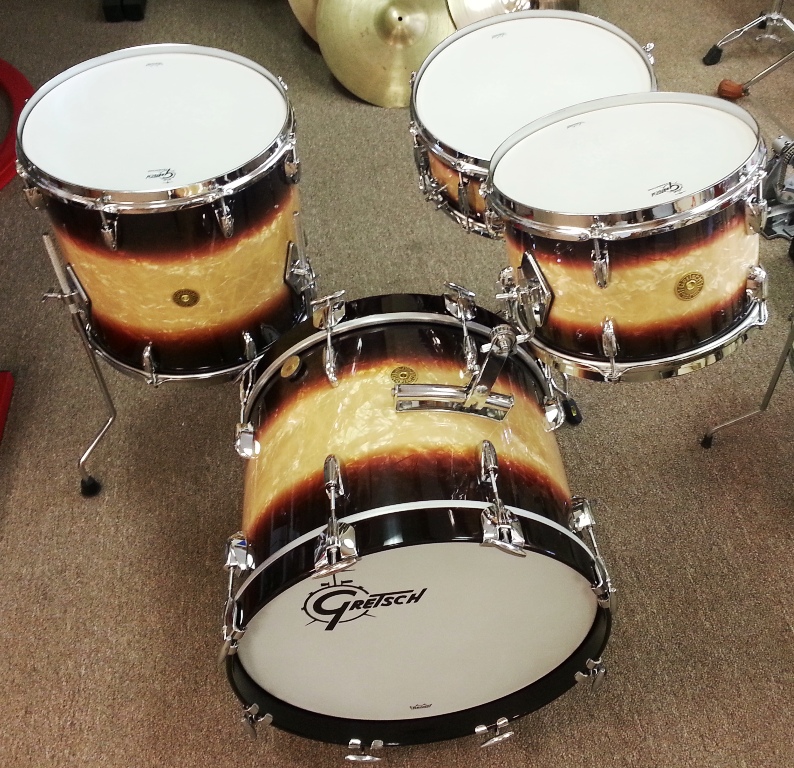 4/8: See a brief video of the shell bank at the Gretsch factory from Steve's recent visit. Slideshow of the visit with audio too! Video HERE. Slideshow with audio is HERE.
3/28: Sad News: Bob Zildjian passed away this morning. Steve's tribute is HERE
3/21: Video highlights:
- Tama solid maple snare drum with Star series bop kit: HERE.
- 3/21 Steve's updated tour of the Craviotto showroom in NYC: HERE.
- Steve's update of the NYC store 4th floor expansion. HERE.
3/11/13: See Steve playing and discussing the new Evans 360 heads which will be in our shops shortly. Incredible heads and THE answer for vintage sets: HERE
3/3/13: New for 2013. See the video HERE. The Gretsch Brooklyn series bop kit has a proper 14x18 with the 8x12, 14x14, 5.5x14 snare. First order of 5 sets sold out, but on 3/3 I ordered five more sets: Naperville: satin maple and satin mahogany; NY: satin maple, satin mahogany, satin tabasco. Call to reserve one now! Only $2130 for the 4pc kit!!!!
2/28/13: VIDEOS NOW UP. See our product review and videos of the new Tama Star series jazz sets that made their NY debut at our shop on Feb 18. HERE
1/25/13: For all 2013 NAMM show updates click HERE
1/25/13: SEE WHAT'S NEW AND COOL FROM LUDWIG IN THEIR LEGACY LINE, AND MORE HERE
12/14/12: Check out the new audio/video of the great Ludwig Legacy vintage build out kits and also a fabulous vintage black beauty: HERE
10/26/12: See the video of the latest and greatest that we're doing specially with Ludwig. My motto: "Yes, you can go back again..." See it HERE.
9/26/12: CRAVIOTTO SOUND FILES NOW ONLINE FOR YOU TO REVIEW! Right now there are 20 drum set and 70 snare drum sound files and we'll continue to add more!! These sound files will give you audio reference points for various woods and sizes and they were recorded in our NY studio. This will help you decide which type of wood, which sizes and which bearing edges you'd like on your kit. To see the list click HERE
8/3/12: CRAVIOTTO!!! The latest and greatest from Craviotto is here! Hybrid bearing edges on a stacked solid mahogany/maple kit. This is unreal. Listen to the sound file with headphones!! Here. And, 30 kits on order for stock and 71 snares!!!! Reserve one now! Incoming sets: Here. Incoming snares: Here
Naperville (Chicago-land): 630-778-8060. Hours: 11-6 Fri. 10-5 Sat. Other hours by appointment. Mgr. Dave Victor email: maxwelldrumsdavid@gmail.com
Manhattan Shop:212-730-8138.Mgr. Jess Birch email: jessmaxwelldrums@gmail.com Hours: Mon-Fri 11-7 and Sat. 11-6
Steve's email: Drummermax@aol.com Steve's cell phone: 630-865-6849
VIDEO CHANNEL: See all of our videos here: youtube.com/stevemaxwelldrums We've got over 130 videos.
LATEST PRODUCTS: cymbals, drum sets, snares, all items STEVE'S PICKS 06/05: Here ALL THINGS GRETSCH: sets, snares
ALL CRAVIOTTO: Here VINTAGE & NEW: sets, snares CYMBALS VINTAGE & NEW: vintage, other used, new
SEE HOW WE SUPPORT MUSIC VENUES: Here
NEWS AND INFORMATION SECTION:
3/17/12: Now, Maxwell Drums brings you even MORE custom options for your Craviotto drum set! Click Here:
3/11/12: Gretsch Stick Chopper style replacement rims ARE HERE: Click Here.
3/11/12: NEW AND EXCLUSIVE TO OUR STORE. GRETSCH SEA FOAM GREEN. BOP SETS, ROCK/BIG BAND AND MUCH MORE, AND WE'LL CUSTOMIZE THEM FOR YOU TOO: Click Here. And, see Steve's video about these sets here: Click Here. Also, see and hear Steve on the bop kit with studio quality sound here: Click Here. And, here's Steve with a 6 pc rock kit: Click Here.
2/17/12: OUR NY STORE FEATURED IN THE NY TIMES SUNDAY 2/19. ONLINE HERE.
12/15/11: THIS IS INCREDIBLE! The rarest set I have ever seen! Far more rare than Top Hat and Cane. One of a kind, Leedy Autograph of the Stars over WMP! The only example ever to surface, and it is a 71 YR OLD FULL, COMPLETE KIT FROM THE ORIGINAL OWNER'S FAMILY. UNREAL! Click Here. And now we also have: One of Joe Morello's drum sets. Very cool and lots of history here. Click Here:
11/16/11: CARL PALMER fans! We have Carl's ELP one-off Remo kit for sale. Click Here. Another First From Craviotto: New lug style bop kit!! Click Here.
8/23/11: NEW! Craviotto "hybrid bearing edges" are here!! See our exclusive video of this great new innovation from Craviotto: Click Here.
Lots of snares, sets and cymbals just added. See them broken down in categories by clicking on the word "Latest Products" in the home page banner at the top of this page, or you can see all items together by clicking here: Latest Products
See our latest video and sound file for the new Maxwell bebop drum set! Click Here VIDEO TOUR OF OUR NEW CHICAGO-LAND STORE: Click Here.
5/7/11: NEWS!! Maxwell Custom Drums. Our line of custom drums reintroduced with three great set configurations and lots of options. See the new sets and also our video: Click Here
4/21: GRETSCH MICRO SENSITIVE STRAINER AND BUTT PLATE!!! GRETSCH HAS REDESIGNED THE MICRO SENSITIVE STRAINER AND BUTT PLATE! IT FITS VINTAGE SNARES TOO. AND, WE HAVE A VIDEO OF IT AS WELL!!! Click Here. And, see the first video episode of "Live from the Drum Shop with Steve" which talks about the great Gretsch USA Custom drums. Click Here.
4/5: Steve's Craviotto drum set product video is on line. Click Here and you'll also have this link embedded in every Craviotto drum set listing as well.
3/16: You can help contribute to Joe Morello's estate by purchasing one of his personal cymbals or one of our Joe Morello Ludwig Tribute drum sets. We contribute all net proceeds from cymbal sales to Joe's estate and a portion of the proceeds on every Tribute set. For Joe's cymbals Click Here. For the Joe Morello Ludwig Tribute drum set Click Here.

NEWS! We have a new Video Program section of our site. It is managed through MaxWeb Productions, which is the video production division of our business. Our website is evolving into a mini media station and the new video section is a big part of the website evolution initiative. We'll have product specific videos, interviews, instructional videos, special interest and more. Check this section out frequently. Updates will be made often. Click Here.
Steve Jordan's vintage Trixon Kit!! Click Here.
See us for ALL your drumming needs. Competitive prices on EVERYTHING and the best service in town!
Check Latest Products and also see Steve's Top Picks!! NEW! Check out our new category Top Picks From the Team. This is a new way for us to highlight what the staff feels are some excellent picks. We'll update this very often. So, now you have two ways to find new items: Latest Products shows you every single new item, and Top Picks From The Team shows you some special highlights.
INVENTORY UPDATES AND INFO FROM STEVE: SEE WHAT WE'RE ANNOUNCING. THIS IS SERIOUSLY COOL. Click Here.
LATEST PRODUCTS: Click Here Items are coming in FAST. Lots of vintage up here already, and LOTS more going in daily with some very cool recent additions!
EBAY auctions. Some special deals! Click Here
STEVE'S FEATURED PRODUCTS: Click Here
STEVE'S SPECIAL SALE ITEMS: Click Here
STEVE'S CELEBRITY AND ULTRA RARE DRUM GALLERY: Click Here
STEVE'S VINTAGE TIPS: Click Here
STEVE'S DEAL OF THE DAY: Click Here
MORE FUN STUFF BELOW:
Take a look at what we have here. Joe Morello's actual Brubeck era Ludwig kit and our new Ludwig Legacy 3 ply Morello "Take Five" Tribute Kit. You'll see both of these here at our shop. The Brubeck era set is part of our museum, but you can order a Take Five tribute kit right now! We're only doing 25 sets. To see it, hear the Sound File and buy it. Click Here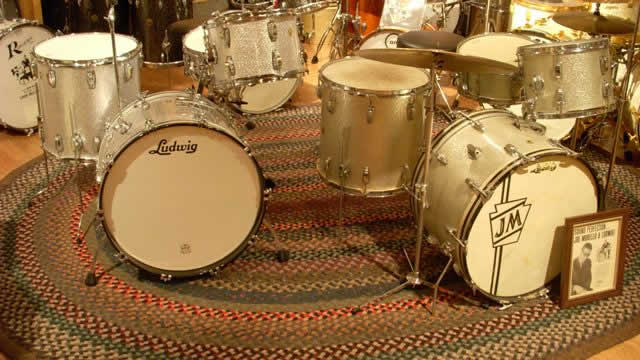 Almost all kits and SDs have sound files, many cymbals too. Go search through the categories on the left side of the main page and enjoy them all!
We have Elvin's Camco kit!!! What more can I say? Check this out because it's truly amazing. CLICK HERE. Plus, many more items added to Latest Products. CLICK HERE for a run down of details.
Pic of the day: "Gretsch Street" in our Manhattan store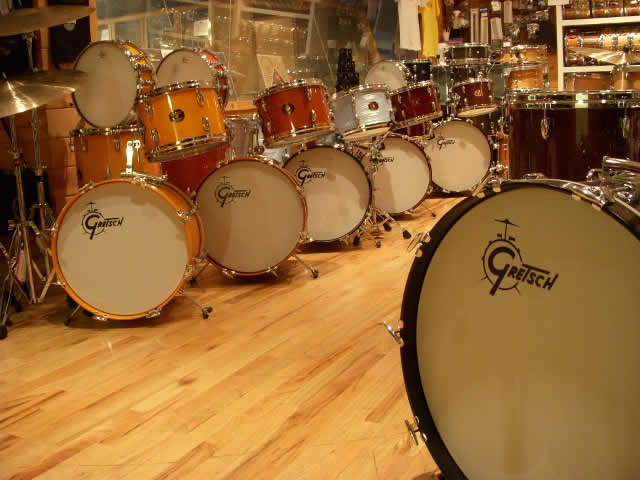 Please always feel free to call Steve's cell directly at 630-865-6849 ANYTIME at all. We definitely want to communicate with you. The highest quality service is our hallmark, and we take this very seriously. Steve
SPIZ, VINTAGE As and Ks WITH SOUND FILES! Click Here
OUR NEW RAIL CONSOLETTE IS HERE!!! Click Here
Click Here for all of the Maxwell News and Latest Updates.
NEW YORK DRUMMERS UPDATE: WE HAVE PRACTICE SPACE AVAILABLE FOR RENT!! CALL JESS AT 212-730-8138. Teaching studio now open with Ron Tierno, noted Manhattan percussionist and instructor.Click Here.
RECORDING STUDIOS: WE CAN HELP YOU! CLICK HERE FOR MORE INFO.