Gretsch and the origins of the 20" bass drum. Here is another Gretsch "first". Did you ever wonder how the 20" bass drum got its start? It was Gretsch. Back in the late 40s Dave Tough had decided to settle into a small group rather than traveling with big bands such as Artie Shaw and others. Dave wanted a smaller bass drum for the smaller ensemble work. Since Dave was a Gretsch endorser he approached Phil Grant with his request. Keep in mind that at this time Gretsch offered sets with 24" bass drums, with an option for a 26" bass drum. So, the idea of a 20" bass drum would seem to be ridiculous to many people. However, Gretsch built the drum for Dave and he loved it. This size caught on quickly because of its great sound and versatility. The sound was excellent with very little muffling required, and the drum could be used for small ensembles as well as for big band work. Shelly Manne used one not long afterward, as did Dick Shanahan during his stint with Charlie Barnet. Some other manufacturers of this era scoffed at the idea of a 20" bass drum and felt it would never catch on. But, as we all know, this was only the beginning of the popularity of this size. Of course, during the 60s this size was extremely popular with Gretsch endorsers and it was very common to see 20s played by the likes of Mel Lewis, Max Roach, Art Blakey, Elvin Jones, Tony Williams, Charlie Persip, Chico Hamilton and more. Of course, as time progressed the 18" bass drum also became a very prominent item for many of these players, especially Elvin Jones, and Gretsch lead the way with that drum size as well. Even today, 20" and 18" bass drums are the standard for jazz players. So, once again, Gretsch's desire and willingness to think beyond current trends enabled them to create a design that had lasting impact on the jazz drumming world.
Gretsch as "Innovators". Many people may not realize just how innovative Gretsch was as far back as 1947. Back then, Louie Bellson was with Tommy Dorsey and he had an idea for an unusual drum set. Louie used two bass drums, and each of these was to be 20x20. Then, he wanted a 26" deep x18" head tom directly in the center between the two bass drums, and then had a 7x11 and 9x13 hanging over each bass drum, and then he had 16x16 and 16x18 floor toms. This was an incredibly odd set up for the era, and it is even unusual by today's standards. Other drum companies laughed at the idea, but Gretsch built the kit for Louie.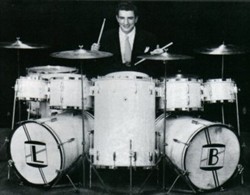 Gretsch endorsers from the 50s and 60s. How's this for a list of endorsers: Elvin Jones, Papa Jo Jones, Philly Joe Jones, Art Blakey, Max Roach, Louis Bellson, Tony Williams, Mel Lewis, Don Lamond, Kenny Clarke, Art Taylor, Sonny Payne, Jimmy Cobb, Charlie Persip, Shelly Manne. Need we say more? These guys were THE players of the era. Many of these players were truly critical to shaping jazz into what we know it as today. And, these guys only got ONE drum set each year, and they had to turn that one back in to the factory before they got a new set. No paid endorsers. These guys played these drums because they were the best, hands down. Tells you a lot. Gretsch got it right!
Gretsch Anniversary Sparkle. This finish was developed by Phil Grant at Gretsch for the 1958 75th anniversary of Gretsch. Phil went to Gretsch's pearl finish supplier and decided that he wanted a black background with silver flakes for the finish. The finish color never made it to the catalog because Gretsch didn't think it was all that important to do so since it was only going to be used for one year. As Phil remembers, the finish wasn't a hot seller at the time. The fact that this finish was only used for one year, and was not very popular with buyers, contributes to the extreme rarity of this finish today. So, be on the lookout!!!