DELIVERY UPDATE 5/1/12: Adrian has shipped the first 50 shells to Craviotto.
DELIVERY UPDATE 4/25/12: See the pic below. Adrian has the shells done and is in the final process with these. Craviotto will start building these out early in May starting with the first 10 drums and with all the rest following quickly. Thanks for being so patient!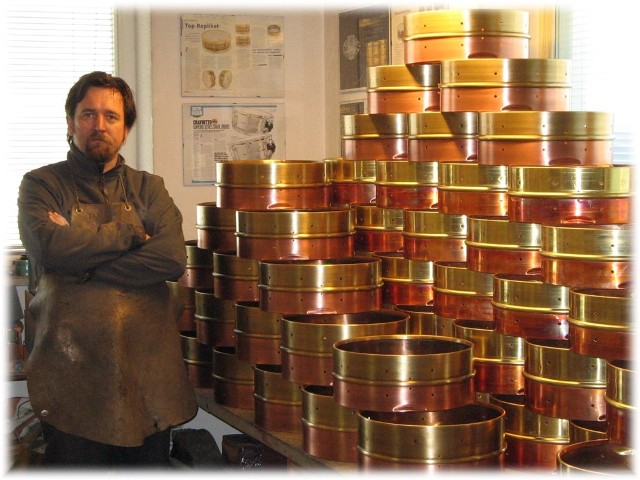 DELIVERY UPDATE 4/10/12 FROM CRAVIOTTO: Adrian Kirchler has been working diligently on the first wave of shells. It has taken a bit longer, but fine craftsmanship can't be rushed. We anticipate that the first 10 shells will be received in about 3 weeks, and that drums will be delivered about 2-3 weeks after that. From that point forward we expect to receive 10 more shells every two weeks until the run is completed. We thank you for your patience.
UPDATE 2/21/12: This limited run is 50 drums in each size, for a total of 100 drums. Please note: As of 2/21/12 THE ENTIRE RUN OF THESE DRUMS IS SOLD OUT. THERE ARE NO MORE DRUMS AVAILABLE. The response has been incredible. The series was announced on January 16th and basically sold out in 15 days. I have 15 of the 5.5s ordered and I have 24 of the 6.5s ordered with none remaining available. All 39 drums are sold already. Steve
Johnny Craviotto and Adrian Kirchler have done it again! The two "Masters" have come together to create the latest Craviotto/AK metal shell snare drum and this one is the best yet. The "Masters Metal" series is a hybrid metal shell snare! The top part of the heavy two-piece shell is brass and the bottom is copper. The shell has a beautiful matte finish that highlights the natural color of both metals. And the sound is incredible. This one is my personal favorite. I like it better than the first run (brass) and the second run (copper). Both of those runs were incredible, but this drum captures the essence of both metals and gives you and incredibly articulate and full sounding drum. Features include all chrome plated hardware as well as the chrome plated Trick GS007 strainer. Also, there is a strainer option that includes Adrian's P-338 style vintage strainer as well. Prices are $1770 for the standard drum. The vintage strainer will be extra. Sizes will be 5.5x14 and 6.5x14 and each size will be limited to 50 drums, each with it's own serial number. Call Steve now! 630-865-6849:
Masters Metal Craviotto list of available and sold drums. (As you can see, almost all are pre-sold already, but call me and tell me what number you want and we'll get it for you if it is available. Initial delivery mid-late March for the first drums with lower serial numbers, and in the 3-4 month range for others at this point):

5.5x14:
#2 Sold (SM)
#3 Sold (JW)
#4 Sold (DB)
#5 Sold (EC)
#6 Sold (SB)
#7 Sold (AN)
#8 Sold (AB)

#9 Sold (RK)
#10 Sold (PK)
#11 Sold (RC)
#14 Sold (JH)
#23 Sold (MS)
#24 Sold (SN)
#45 Sold (Vaught)

6.5x14:
#2 Sold (SM)
#3 Sold (JP)
#4 Sold (DB)
#5 Sold (JS)
#6 Sold (SB)
#7 Sold (GS)
#8 Sold (RC) vintage strainer

#9 Sold (BN)
#11 Sold (DC)
#24 Sold (JE)
#26 Sold (BK)
#27. Sold (JL)

#28 Sold (LH)
#30 Sold (JW)
#32 Sold (RD)
#34 Sold (DF)
#35 Sold (CA)
#39 Sold (TB)
#41 Sold (CS)
#42 Sold (YJ)
#45 Sold (S. Chin)
#49 Sold (PD)
#50 Sold (DS)