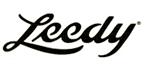 We are proud to announce the creation of the Leedy USA Custom Shop. Through our arrangement with Leedy, our Leedy USA Custom Shop division will be responsible for creating, building and distributing custom Leedy USA drums.
Our goal is to honor the tradition of the great Leedy name by developing products that match classic beauty with classic sound. In this regard we are pleased to announce that our first Leedy USA Custom Shop snare drums will be built with solid shells through our exclusive arrangement with The Craviotto Drum Company. Johnny Craviotto is well known as the world's finest craftsman of solid shell drums. Johnny's solid shells will add a new dimension of sound to the Leedy product line.
Snares will be available in various sizes with either the Leedy beavertail lug or the Leedy "x" style box lug, with the Leedy Broadway Standard Extension strainer and butt plate. In addition, choices of rims include the Leedy double flanged rim, or traditional die cast among others. There will be more information coming soon regarding the various wood choices for the shells, as well as other finishes such as pearl wraps and stains.
We will have more information soon. Meanwhile, start thinking about YOUR Leedy USA Custom Shop drum and call Steve at the shop or on his cell phone for more details.
As Steve says; Let's make the Leedy USA Custom Shop "The New Era" for Leedy.