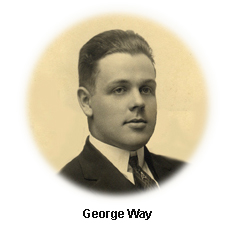 U.G. Leedy was an excellent judge of character, and hired departmental managers who maintained his high standards. When he realized the need for a full-time sales manager, he sought out George Way. Way was at the time operating his own drum company in Canada, but Leedy convinced him to give that up and move to Indianapolis. The personable Way was not only a percussionist and salesman, but also an engineer and artist. Many of his contributions changed the percussion industry forever, such as the floating-head concept, self-aligning lug, and pearloid covering on drums. Way created a promotional publication titled Leedy Drum Topics which included playing tips, endorser news, and product introductions.
Way's concepts and rough drawings were often perfected in the engineering department by the talented Cecil Strupe. Strupe was Leedy's chief Mechanical Engineer and shop superintendent from the early 1920s through the mid 1930s.
Below: Drawing for Floating Head:

Geaorge Way also invented the Leedy double flanged hoop and was responsible for the development of a truly key innovation found on nearly all drums today; the "self-aligning lug". Both of these can be seen in the photo below:

George Way continued to head up the growth and development of the Leedy Drum Company throughout the 1930s as a Conn division, and stayed with Leedy until departing in 1942, but he returned again to Leedy in 1947.
We'll talk further about the contributions of George Way in subsequent issues of Leedy Drum Topics.
Steve